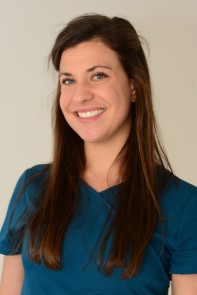 Stacy was born and raised in Clinton, MA and graduated from Hudson Catholic High School as salutatorian of her class in 2006. She was a two-sport varsity athlete and co-captain of the basketball and softball teams.
She graduated summa cum laude with her Bachelors of Science in Athletic Training from Merrimack Collage in 2010.  While in school, she had the opportunity to work with the Women's Basketball and Men's Lacrosse teams and in her free time participated in intramural sports.  She is currently a licensed Athletic Trainer and is working with the varsity athletes at Falmouth Academy.
She went on to earn her Doctorate of Physical Therapy from Simmons College in August of 2013. During her time at Simmons she was a graduate tutor and volunteered instructing yoga at a local assisted living facility. She completed clinical affiliations at Perkins School for the Blind where she worked with pediatric patients with a variety of neurological disorders and at Excel Orthopedics where she treated a variety of musculoskeletal disorders and sports related injuries.  Stacy is a Certified Gaston Technique Provider.
Stacy is no stranger to the Cape, she has spent her summers here since she was a child and now resides in Pocasset. In her free time she enjoys, running, skiing, cooking, and the Boston Red Sox.