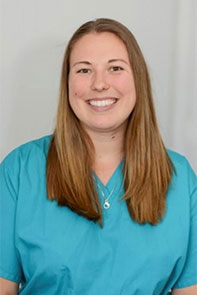 Ashley grew up in Hermon, Maine where she graduated from Hermon High School in 2008 as a three-sport athlete and captain in soccer, basketball, and softball.  Ashley went on to play Division I softball at the University of Maine where she captained her senior season and led the pitching staff in innings pitched, ERA, and appearances.  As a pitcher for the Black Bears, Ashley earned numerous awards including America East All-Rookie Team, Commissioner's Honor Roll, M Club Finalist, All-Tournament Team, and All-Conference Team.  She graduated Magna Cum Laude with a degree in Biology and went on to complete her Doctorate in Physical Therapy at Husson University.
While attending graduate school, Ashley served as Assistant Coach for the Husson Softball team, working with the pitchers and catchers specifically; the Eagles earned conference championships in each of her three seasons there.  Ashley was also actively involved in the Husson Physical Therapy program's Soaring Eagles Clinic, a pro-bono facility providing physical therapy services to under- and non-insured members of the Greater Bangor area. She completed clinical affiliations at Millinocket Region Hospital and New England Rehabilitation Hospital of Portland where she worked with patients following traumatic brain injury, stroke, amputation, and various orthopedic injuries and surgical procedures. Ashley's work in the classroom was recognized by the Husson Physical Therapy program, who awarded her the Plaque Award for service to the community and school.
In her free time, Ashley teaches private pitching lessons to young girls in the community and is an assistant coach to the Falmouth High School Varsity softball team.
Ashley lives in Mashpee with her husband, Nikko, and black lab, Nokona. She enjoys baking bread, hiking, walking on the beach, watching movies, and reading.